Everyone is talking about the OAP, but what is it really? And how does it affect you and your child? The Ontario Autism Program (OAP) provides funding to children and youth diagnosed with autism spectrum disorder (ASD) up to the age of 17. It provides funds directly to caregiver's so that they can access appropriate services for their child.  The OAP has specific services that it will fund, primarily Applied Behaviour Analysis services, but also speech language pathology, occupational therapy, and mental health services as well as some equipment as recommended by a professionals approved by the OAP. These services and service providers help to identify your child or youth's areas of strengths as well as areas for development. The OAP will continue to evolve in 2022! 
A brief history of the OAP 
The Ontario Autism Program is a provincial program which provides government funding to children and adolescents diagnosed with autism spectrum disorder (ASD). This program is meant to help caregivers access evidence based Applied Behaviour Analysis services based on family's needs. Since its launch in 2016, the OAP has had may changes to its funding model. Most recently,  the provincial government did engage in a variety of consultations with caregivers, community members and professionals to assess the funding model. 
In December 2021, the OAP launched a new organization to better support children registered in the OAP. The Independent Intake Organization will be a single point of access for the OAP and will support families and caregivers from intake to funding allocation. The Independent Intake Organization (IIO) will begin supports Spring 2022 and they will help with the following: 
Assisting with enrollment for the OAP

 

Supporting families or caregivers to identify child's needs and strengths

 

Helping families to find community base services

 
Initiating contact with a care coordinator who will be the main contact for the child's services

 
To stay up to date on any Ontario Autism Program updates, check the Ontario Autism Program news and program updates website. 
"Ontario is implementing an autism program that is comprehensive, needs-based and family-centred. During this transition, we continue to offer services and supports to improve outcomes for children and youth on the autism spectrum, promote quality care from autism providers and help as many families as possible" – Ministry of Children, Community and Social Services, 2022 
Who can get OAP funding? 
For you to register with the Ontario Autism Program to receive funding, your child must: 
Be under the age of 18 

 

Have a diagnosis of autism spectrum disorder (ASD) by a qualified professional

 

Reside in Ontario

 
Enrollment form: Ontario Autism Program Registration Form 
OAP contact information: 
Phone: 1-888-444-4530

 

E-mail: OAP@ontario.ca

 
How can the OAP benefit my child or youth? 
The OAP provides funding to children and youth diagnosed with autism spectrum disorder (ASD) so they can access crucial services. These services and service providers help to identify your child or youth's areas of strengths as well as areas for development. 
If your child has a diagnosis of ASD, there are several options available on the OAP website to explore. The new structures are based on caregiver needs and it is recommended that once you enroll with the OAP that you work with your care coordinator to determine the best route for services. To register for services, an application should be submitted on the OAP website. Click here to go to the main page and find out what forms are needed for registration under the 'Register Your Child' heading. If you are enrolling more than one child, they will each need to be registered separately.  
Once approved, funds will be released to access services. Alternatively, if in consultation with a care coordinator, families and/or caregivers will be advised on best options based on the individual's needs, strengths, and caregiver-informed goals. The amount of funding may vary based on individual needs and the type of services selected.  A care coordinator associated with the OAP will assess these needs, however it is also recommended that caregivers also follow recommendations from the professional who diagnosed their child (doctor or psychologist). See the link below to read about the different needs-based services and supports.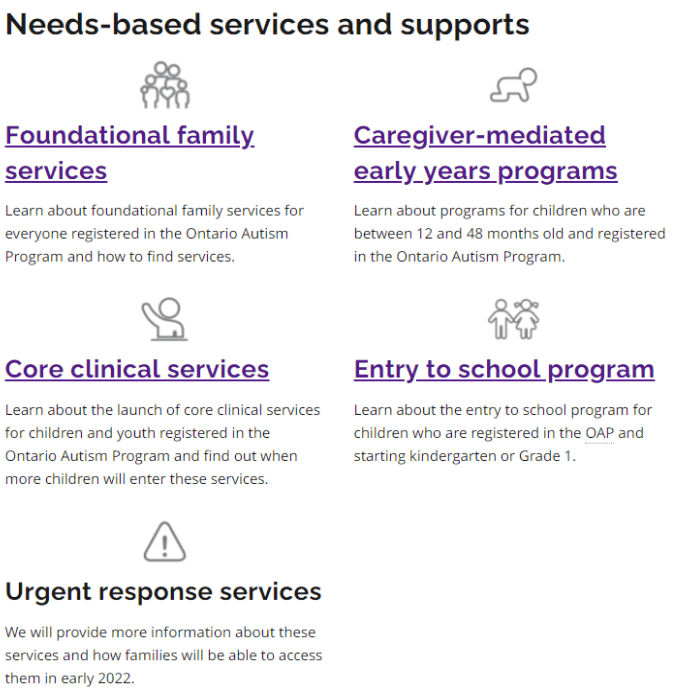 Anderson Therapy Services Inc is an Ontario Autism Program provider! 
Anderson Therapy Services Inc. is an approved OAP provider and meets all criteria to provide core clinical services through the Ontario Autism Program. We are ready to provide your child or youth with effective, evidence-based therapy. Under core clinical services, the following professional services can be covered by the OAP at Anderson Therapy Services: applied behaviour analysis services (behaviour therapy), speech language pathology services, occupational therapy services, and mental health services.  
Our behaviour therapy services are supervised by Board Certified Behavior Analysts (BCBAs) and provide direct one-on-one therapy sessions as well as caregiver trainings and consultations. We can also collaborate with the other OAP qualified providers (Speech therapy, occupational therapy and mental health). 
At Anderson Therapy Inc., our team of experienced BCBA's and ABA therapists are eager to work with you! If you are interested in services with us, our behaviour therapy team will schedule an intake and complete an assessment with your child. We can recommend amount and frequency of services to you based on this assessment. Our assessment involves interviews with the family or caregivers as well as direct observation of the child. We can offer ABA services in a variety of modalities to best suit your needs. 
These include: 
1:1 therapy with child and family (in-person or virtual)

 

Small or large group (in-person or virtual)

 

Consultative services with families, caregivers, and community partners (school, day care, etc.)

 

Caregiver-mediated training

 

Webinars (look forward to these coming soon)

 
If you have any questions, do not hesitate to reach out. We can answer your questions and help you to create individualized services for your child.  The behaviour therapy team here at Anderson Therapy Services is here to help you navigate the changes and updates to the current funding models.  
Click here to initiate ABA services with our amazing team!